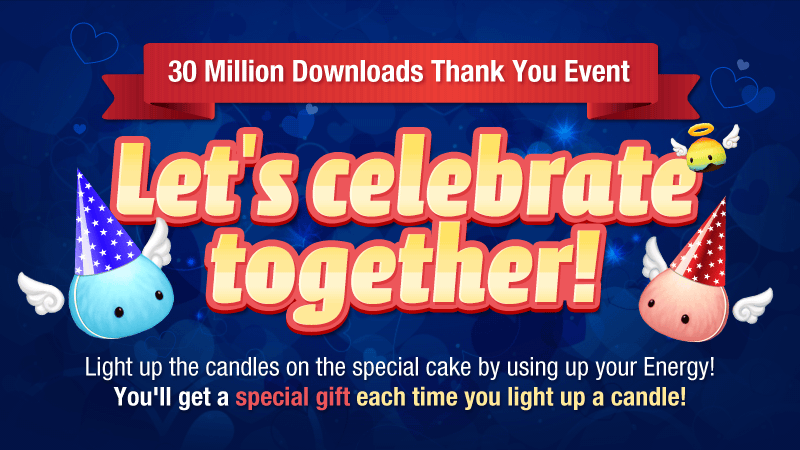 Light up the candles on the special cake by using up your Energy!
You'll get a special gift each time you light up a candle!
Event Details
– Feb. 23rd 12am – Mar. 8th 7am PST
Rewards can be collected until Mar. 9th 7am PST
– The amount of Energy you used will be accumulated on the event page during the event.
– Please tap on the [Light!] Button when you meet the requirements.
– You'll get special rewards according to the number of used Energy during the event.
– You'll be able to get 7 different rewards if you succeed in using 1,500 Energy.
* Please tap the Event Icon and tap the Event Banner to view the event page.
Reward Details
Use 200 Energy – 200 Energy
Use 400 Energy – 200,000 Mana Stones
Use 600 Energy – 100 Crystals
Use 800 Energy – 50 Summoning Stones
Use 1,000 Energy – 3 Mystic Scrolls
Use 1,200 Energy – 200 Energy / 1 Devilmon
Use 1,500 Energy – 300 Crystals
Details
– Please restart the game to participate in the events if you're logged in at the start of the event.
– The candles will light up in order from the left when you use 200/400/600/800/1,000/1,200/1,500 Energy.
– You can get your reward by tapping the Light! Button after you've met the requirements. If you aren't able to see your reward, please try restarting the game. (Rewards can be collected only once.)
– Questions? Drop us a line at info@com2us.com!
Thanks!
Source: http://www.withhive.com/